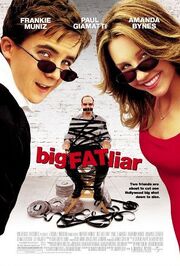 Big Fat Liar is a 2002 family comedy starring Frankie Muniz, Amanda Bynes and Paul Giamatti.
Plot
Jason Shepard (Frankie Muniz), a teenage boy who lies a lot goes with his friend Kaylee (Amanda Bynes) to Los Angeles to prevent a sleazy film producer named Marty Wolf (Paul Giamatti) from greenlighting a paper he wrote for school and turning it into a feature film.
Why It's Better Than Bigger Fatter Liar
The idea was original.
Aside from Malcolm In The Middle, Frankie Muniz was pretty much in his heydays of starring in TV and movies after doing My Dog Skip and this film.
Amanda Bynes wasn't doing drugs.
The film had tons more charm.
There are nods to films like North by Northwest.
We see the Delorean from Back To The Future in a warehouse.
The comeuppance that Marty Wolf got was better than the one Larry Wolf got.
Trailer