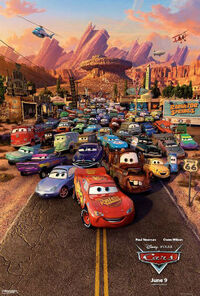 Cars is a CGI animated Pixar movie which is considered not the greatest Pixar movie but is still certainly good. It holds a decent 7.1/10 on IMDb and a Certified Fresh 74% on Rotten Tomatoes. It is considered a good Cars movie in the franchise unlike Cars 2 which if you want to know more about it go on Awful Movies Wikia.
Plot
Cocky but admired race car superstar Lightning McQueen dreams of getting the exclusive Dinoco fame by winning the Piston Cup. He only cares about his fame and becoming in the Dinoco team. He has rivals which include cheating race car Chick Hicks and kind-hearted Strip Weathers aka "The King". After the shocking look of McQueen's face as the race was a draw McQueen is set to go to the Inter State for another race only including those 3 racers. McQueen tries to avoid the Rusteze crew which is McQueen's sponsor brand but fails. After McQueen's chat with the Rusteze crew he gets Mack (His truck assistant you could say) to take him to the Inter State.
During the trip on a giant highway Mack gets tired but McQueen tells Mack to avoid the Truck Stop nearby which McQueen also complains that a mini van is going faster then Mack. McQueen falls asleep and suddenly a gang of tech cars come along and put Mack to sleep. They mistakenly make McQueen fall out of the trailer and McQueen wakes up and drives for his life on the busy highway. McQueen gets lost from a truck he thought was Mack and starts speeding on a road called Route 66. A cop car named Sheriff sees McQueen speeding and they go on a speed chase. McQueen later gets stuck and has no escape. McQueen wakes up in a small town called Radiator Springs.
Now, McQueen must learn a lesson about friendship.
Why It's Better Than Cars 2
Lightning McQueen is a main character who turned out to be a loved Disney character.
It has characters you loved that did not appear in Cars 2 but appeared in Cars 3.
The ending is heartwarming.
It doesn't really have anything bad for kids in it.
The songs are great.
Downsides
Even though the animation is good, it's not as great as it's sequels.