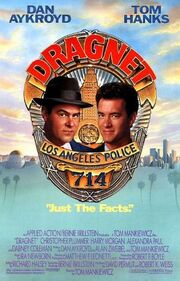 Dragnet is a 1987 comedy starring Dan Aykroyd, Tom Hanks, Harry Morgan (who starred in the original 1960s show), Dabney Coleman, Jack O'Halloran, Christopher Plummer and Alexandra Paul. The film was written by Dan Aykroyd, Tom Mankiewicz and Alan Zweibel. It's based on the 1960s TV series of the same name.
Plot
Sgt. Joe Friday (Dan Aykroyd), the nephew of the original Joe Friday and his new partner, Pep Streebek (Hanks) have to stop a dangerous criminal group called PAGANS, which is short for People Against Goodness And Normalcy. The two also have to deal with a soft core pornography lord named Jerry Ceaser (Dabney Coleman) and Reverend Johnathan Worley (Plummer), the leader of the PAGANs.
Why It's Better Than Cop and 1/2 and Exit to Eden
More interesting storyline.
Buddy cop clichés that work a lot more than the cop clichés in the films mentioned above.
Tom Hanks and Dan Aykroyd have good chemistry that's even better than Burt Reynolds and Norman Golden II as well as Dan Aykroyd and Rosie O'Donnell.
There are nods to the original 1960s TV series, like the opening theme that was used in the TV series and a cast member from the original show is one of the major characters.
Better villains.
Memorable music, especially the end song "City of Crime" sung by Tom Hanks and Dan Aykroyd.
An amusing cameo appearance by Kathleen Freeman.
There was comedy on the actual TV series.