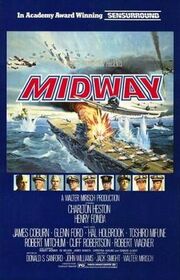 Midway is a 1976 war drama starring Charlton Heston, Henry Fonda, Robert Wagner, Hal Holbrook, Tom Selleck, Dabney Coleman and Edward Albert.
Plot
Six months after the Pearl Harbor attack, the U.S. Navy SEALS go out to battle the Japanese Army at the island of Midway.
Why It's Better Than Pearl Harbor
Better storyline.
Better characters.
Better performances.
The opening scenes with the airplanes taking off and dropping bombs on enemy supply vehicles was an interesting way to open a war film.
More memorable music composed by the talented John Williams.
The film has more going for it.
A quote from Winston Churchill is seen at the end before the end credits roll in.
Better action scenes, especially during the climactic battle.
The ending is better.
Better special effects in the film that are all practical.
There is a touch of romance, but it's not big like the one in Pearl Harbor.