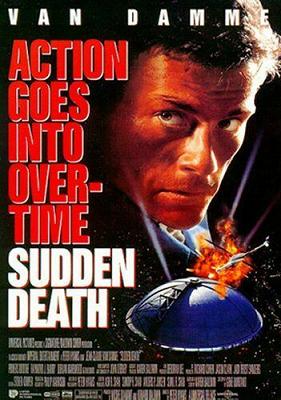 Sudden Death is a 1995 film starring Jean-Claude Van Damme, the late Powers Boothe, Raymond J. Barry and Dorian Harewood and is directed by Peter Hyams, who directed Timecop a year earlier, which also starred Jean Van-Damme.
Plot
Darren McCord (Van Damme), an ex-Pittsburgh firefighter turned fire marshal takes his kids out to the Stanley Cup Finals, but has no idea that ex CIA Agent Joshua Foss (Boothe) and his henchmen are going to take the attendees at the hockey arena hostage as well as the U.S. President who's attending the game.
Why It's Better Than Speed 2: Cruise Control
The idea of Die Hard at the skating rink is interesting.
Jean Claude Van-Damme looked like he was having a good time starring in the film.
There are a lot more adrenaline-pumping action scenes.
The co-stars weren't irritating or annoying.
Despite the film having a serious subject matter, there are touches of humor.
Reception
Sudden Death received mixed reviews from critics and audiences. The film holds a 54% "rotten" rating on Rotten Tomatoes with an average of 5.1 out of 10, but has no critic consensus. Peter Travers of Rolling Stone stated in his review "Despite the elaborate stunts, go-go-go direction from Peter Hyams, plus butt-kicking and surprise goalie action from Van Damme, Death deserves the hockey-puck booby prize for...getting its jollies by putting kids in jeopardy." Roger Ebert of The Chicago Sun-Times stated "Sudden Death isn't about common sense. It's about the manipulation of action and special-effects sequences to create a thriller effect, and at that it's pretty good." Geoff Andrew of Time Out stated "Reuniting Hyams and Van Damme, director and star of Timecop, this spectacular nail-biter exploits their combined, if limited, abilities to the full."
Box Office
The film opened up at #8 on its opening weekend earning a total domestic gross of $4,782,445. It would later go up to $20,350,171. In foreign countries, it made $44,000,000. Overall, Sudden Death grossed $64,350,171 against its $35 million budget making it a box office disappointment.
Downside
The film had a budget of $35 million, but only grossed $20,350,171 million domestically (mentioned earlier). On the bright note, it did make money in overseas territories and made a profit on VHS, Laserdisc, TV broadcasts and DVD. Despite all of that, it is considered to be a good Die Hard clone film and has gained a cult following for many years.
Videos
External links