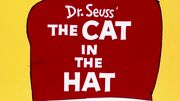 The Cat In The Hat is a 1971 animated made-for-TV movie loosely based on the beloved book of the same name starring Allan Sherman as the title character. The film aired on CBS on March 10, 1971. The film co-starred Thurl Ravenscroft as Thing 1, Lewis Morford as Thing 2, Daws Butler as the fish named Mr. Krinklebein, Pamelyn Ferdin as Sally, Tony Fraizer as the brother and Gloria Camacho as the mother.
Plot
Two kids sit down during a cold and rainy day until a six foot tall talking cat in a hat shows up and wants to play around and have fun.
Why It's Better Than The Cat In The Hat (2003)
The story is better written.
Better acting and choice of lead actor.
Musical numbers that are memorable.
Dr. Seuss was involved in making the film.
The Cat doesn't look creepy.
The film is animated.
There are no toilet jokes or innuendoes.
Thing 1 and Thing 2 look better.
No hammy overacting.
An actor who worked for Hanna-Barbera participated in acting in a non-Hanna Barbera cartoon.
Media release
The film was released on VHS by CBS/Fox in 1989. It was later released on VHS with 20th Century Fox in the mid 1990s. In 2003 (the year the infamous live-action adaptation was released), the film was released on DVD and was distributed by Universal.