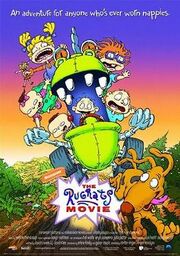 The Rugrats Movie is an 1998 American animated adventure film based on the Nickelodeon show of the same name. The cast from the show reprised their roles for the movie and it is the first non-Disney animated film to gross over $100 million dollars. This is the first movie in the Rugrats Movie franchise and it's the first one to be based on a Nicktoon. It was released on November 20, 1998.
Plot
Tommy's parents get another baby named Dil and Tommy thinks that his parents care for Dil rather than him. Later, Tommy, Dil, and his friends get lost in the forest with circus monkeys and then they try to find their way back home.
Why It's Better Than The Nut Job
Better animation.
The characters are more likable.
Better storyline.
It made more money in the box office.
More funny moments.