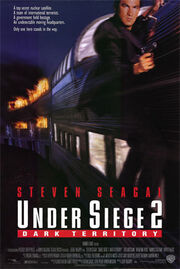 Under Siege 2: Dark Territory is a 1995 film starring Steven Seagal and Katherine Hiegl. It is a sequel to the 1992 film Under Siege. Nick Mancuso, Andy Romano, and Dale Dye return from the first Under Siege. The film co-stars Morris Chestnut, Peter Greene, Eric Bogosian and Kurtwood Smith.
Plot
Casey Ryback (Seagal) takes his niece (Heigl) out on a train ride to Los Angeles. But, has no idea that an ex-CIA turned madman (Bogosian) is out to take both the train and its passengers hostage.
Why It's Better Than Speed 2
Our main character and actor returns and three cast members from the first Under Siege return (mentioned above).
The sequel wasn't chopped down to a PG-13 rating like Speed 2 was.
It's like Die Hard on a train.
A majority of events from the first film are referenced and keeps in way better continuity.
Ryback pays tribute to his brother.
Downsides
The film was a box office disappointment.
Under Siege 2 received mixed reviews.
Trivia
There were originally no plans for a sequel to Under Siege. But, Warner Brothers decided that it might be a good idea.
Dark territory refers to where there aren't any train signals and there's no way to communicate with the dispatcher.
Reviews